Japan Museum Mitsuko Castle Ways to Simplicity
02/08/2021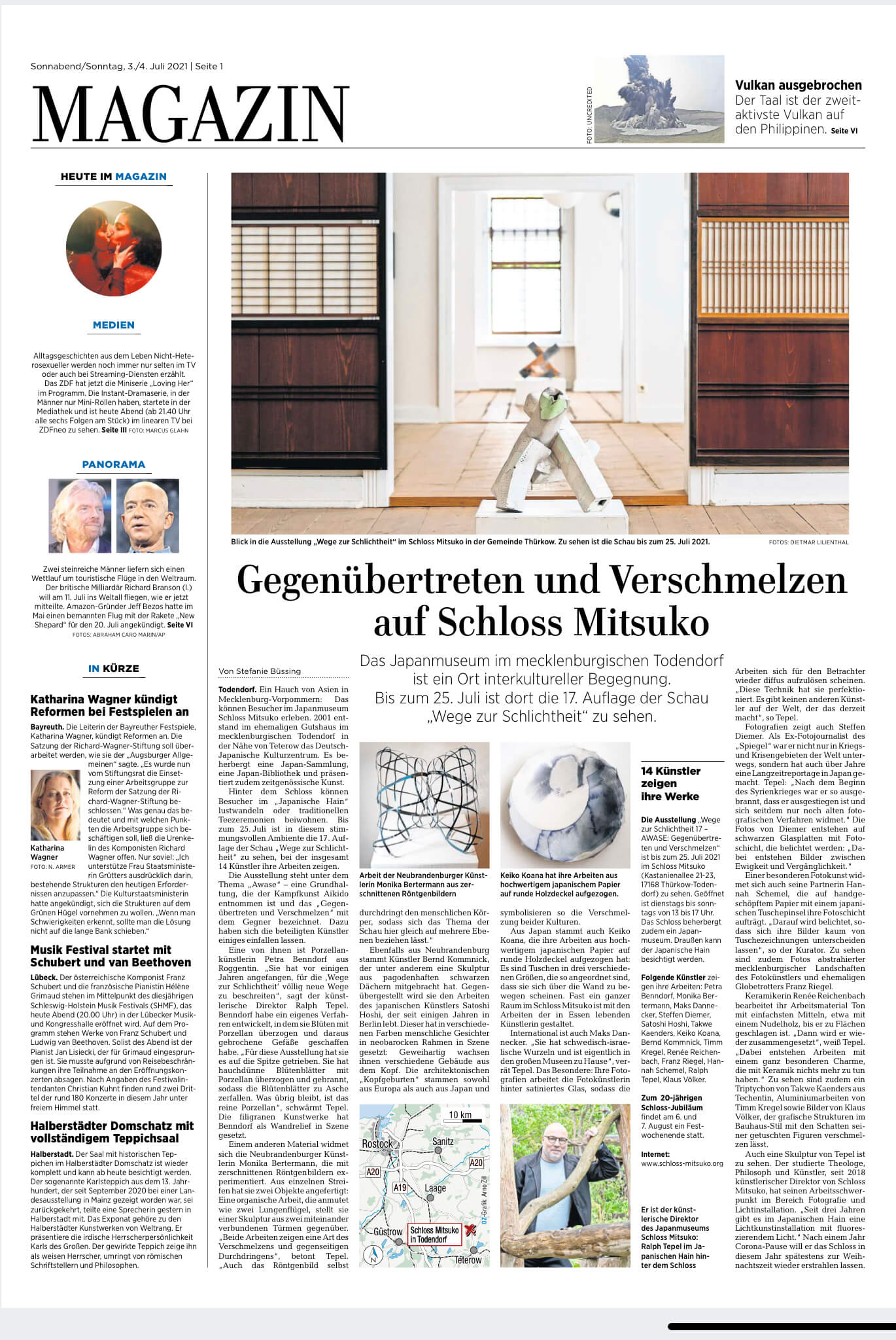 Japan Museum Mitsuko Castle Ways to Simplicity. The collaborative exhibition Awase, Paths to Simplicity, in which Hannah and I participated at the invitation of director Ralf Tepel sadly came to an end on 31/07/2021.
I would like to present a very wonderful review by Stefanie Büssing in the Ostseezeitung. A very readable article.
I would also like to share some information from Mitsuko Castle with you, as we will have a solo exhibition next year at the Chrysanthemum Festival.
Mitsuko Castle - Japan in Mecklenburg
Museum - Place of Encounter - German-Japanese Grove
The Museum
Mitsuko Castle is a museum of Japanese culture and contemporary art. It houses a large Japan collection of art, folk art, ceramics, textiles and a Japan library. Part of all this is on permanent display. This collection also includes a number of permanent loans and donations. The basement houses the ceramics collection in showcases and, among other things, installation artworks by Mitsuo Fukada. The ground floor shows works by Professor Heinrich Johann Radeloff and several Japanese artists.
On the upper floor there are the areas of the permanent exhibition of paintings by Heinrich Johann Radeloff, textile works such as kimonos, folk art, theatre props. You will also find the temporary exhibitions of Japanese and contemporary art here.
The meeting place
The castle organises tea ceremonies in cooperation with the Urasenke Tea School Kyoto. For the Midsummer Remise, there is a small tea ceremony in keeping with the character of the event. There is a tea room in the castle (coffee is also available) where visitors are welcomed.
Japanese grove
Behind the castle and next to the building is the "Japanese Grove" (nihon no mori = sacred grove of Japan). In it, the vegetation of Mecklenburg Switzerland has been fused with Japanese plants. The sacred grove is structured and divided by stone settings, wickerwork walls, as is common among the Ainu, from whom Professor Johann Heinrich Radeloff learned this technique, and tori-i. It is a grove modelled on the Shinto groves. In it, the spirit, the breath that permeates everything, and the spirits, everything that moves the world, have their place. It is a place of intellectual and spiritual tolerance and diversity. It is a quiet and deeply meditative place, but it also hosts events on and off the stage several times a year.