Nice cyanotype workshop for children on the occasion of my exhibition.
22/04/2023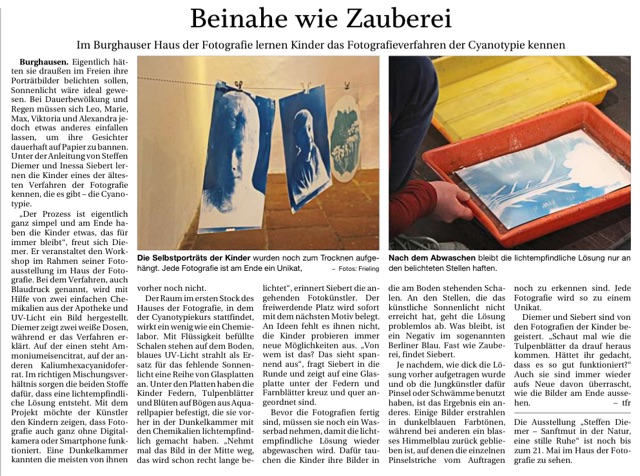 Nice cyanotype workshop for children on the occasion of my exhibition. Last Friday Inessa Siebert and I held this workshop on the occasion of my exhibition in the Haus der Fotografie, Dr. Robert Gerlich Museum in Burghausen: Sanftmut in der Natur, eine stille Ruhe. It was unbelievable fun with the children. The young artists produced some great results.
It is incredibly important to me to interest young people in art and thus perhaps lay the foundation for something to grow later. Whether it is their own artistic activity, at whatever level, or simply an enthusiasm for art.
If even one child succeeds in this, everything is won.
However, even if the children simply had a nice, carefree day and took something home for themselves, it's good.
I would now like to briefly introduce the cyanotype process for those who don't know it.
The cyanotype, also known as iron blue printing, is an old photographic noble printing process with blue colour tones. In 1842, the English natural scientist and astronomer John Herschel developed this process. The cyanotype was the third process after the daguerreotype and calotype for producing stable photographic images. It is a process based on iron and not on silver, which is otherwise used in the conventional production of photographic prints (and the two processes mentioned above).
Anna Atkins, a British natural scientist, made this photographic technique known through her books in which she documented ferns and other plants with cyanotypes. She is considered the first female photographer because of this early application.
For the reproduction of plans, i.e. the making of blueprints, the cyanotype was widely used from 1870 onwards. The duplication was done by the artist himself, including the sensitisation of the paper, before light-sensitive papers came on the market in Paris in 1876 (Marion Cie.). Exposure was done with UV or sunlight. Around 1895, electric exposure devices were introduced. It was not until the 1920s that fully automatic machines were available which carried out a complete process (exposure, fixing, drying). The cyanotype as a method of copying drawings was then replaced by the dry diazotype (Ozalid® copy) before the Second World War.